Tuesday, 03 November 2015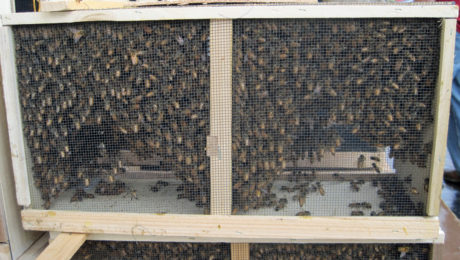 Bees For Sale in South Carolina
The holiday season is just around the corner but some South Carolina residents are searching the internet for "bees for sale".  Yes, bees !  Honeybees to be exact. Much like gardeners who love to thumb through seed catalogs with excitement and planning, we beekeepers spend many hours debating on the best way to procure honeybee colonies.
Why do we need to purchase more bees ?
Sometimes new colonies are needed to replace winter loses. It is certainly a fortunate beekeeper in these days who can come through the winter season with no colony deaths. On average, a US beekeeper may begin winter with 10 colonies and only have 5 living by Spring. This loss is due to many of the challenges facing honeybees today including pests, diseases, environmental pressures and other unknown factors.
In addition, a beekeeper may want to increase the number of colonies in his/her bee yard. Bee Well Honey Farm encourages beekeepers to keep at least 2 colonies for easier management and sharing of resources.
Due to social media coverage of the "plight of the honeybee" , we are seeing an increase in new beekeepers. Buying package honeybees is a great way to get started in the hobby.
Where can I find bees for sale ?
Honeybees can be purchased from several sources. The most common method of acquiring bees is to purchase a "package" of bees.  A 3 pound package of bees will contain roughly 10,000 honeybees and a mature queen. Over time, the beekeeping industry has determined that this is the optimum number of bees to start a colony in most situations. Sometimes, bee packages are shipped through the US postal service or even UPS. If you are lucky enough to have a local pickup point, obtaining bees from a local beekeeping supply distributor is usually your best bet.
When should I order my bees ?
Oddly enough the best time to order bees for pickup next Spring is now ! Orders placed in the late Fall or early Winter will have the best choice of pickup dates for next Spring. Bee Well Honey Farm sells hundreds of bee packages each season and offering healthy bees for sale to our customers is a pleasure. We are currently taking order for March/April 2016 pickup. Order Bees Now
What should I do after I order my bees ?
Once you have placed your order, you still have many exciting things to do ! Spend the next few months reading and learning. Beekeeping is not difficult but it takes time to learn how to manage a bee colony. We have several good books in our beekeeping supply section. We also offer a one-day Beekeeping Boot Camp for new beekeepers or those who want to re-fresh their skills.   You should get your equipment and have it ready for the bees well in advance of their arrival.
Why should I consider Bee Well Honey Farm ?
Bee Well Honey Farm has been providing quality bee packages to the upstate region for over 10 years. You will not find another supplier with more experience and dedication to the beekeeping community. We appreciate all of our many regular customers who return year after year. Thank you for being a part of our beekeeping family.