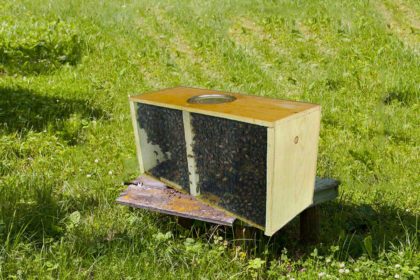 I can relate to this question because – before I became interested in honeybees I had no idea how to buy them. My first hive was a gift from a friend. Funny thing was, he actually brought it to me in the backseat of a Camry with the seat belts around it to secure it. The two kids in the backseat were terrified! Probably the quietest trip that family ever made.
After I became obsessed with honeybees, I had to get more. Problem was I  just wasn't sure exactly how to do that.
Luckily for me I did reach out to the old time beekeepers in my region. I met a beekeeper named Mr. Gentry, and he invited me travel with him to buy bees in Vernon, Georgia from John Hardeman at Hardeman Apiaries. I gladly jumped at the chance to go, bu he made me drive.  In fact he made me do all the grunt work but I loved the experience, especially since I had none.
When we arrived it was astonishing to me. Bees were everywhere – and I mean everywhere!
There were hundreds of little screened boxes – better known as packages. Each Honeybee Package contained 3 lbs of bees and a queen in a little wooden box. It was amazing! At this point I was searching for answers about the bee business and John Hardeman invited us into his house for lunch.
John's wife met us at the door and gave me a good looking-over. I started politely asking questions, and of course, enjoying the food!
These were great people. I asked John, " If you had to start over would you have still do honeybees?" He smiled and patted his wife on the shoulder and replied, "yes, but I would have started a lot sooner". That's all I needed.  That was the day I started my bee business.
I bought fifty 3 lb packages of honeybees,  and Mr. Gentry bought fifty.  That was almost 20 years ago and now Bee Well Honey is the largest honeybee and beekeeping supply company in South Carolina.
We are serious about educating new beekeepers and carefully explain to them what a honeybee package is. We also make sure they understand how to care for them. We would never consider just pitching a package of bees in a car without making sure the customer knows how to care for them. Thus the reason for this blog.
Beekeepers who wish to sell honeybee packages are a unique group of individuals. The great ones know how to rely on other beekeepers and relationships to share methods, ideas, equipment, employees, queens, queen cells and the list goes on and on. But, the most important thing we share is failure.
Bee farmers continuously share things that they try, but did not work. Therefore they learn how to try it again, but in a different way. They never give up. They just keep trying until they get it right. Being a honeybee package bee provider is not easy and I have the greatest respect for all of them.
What Is A Honey Bee Package?
A package of honeybees contains approximately 3 lbs of honeybees, nurse bees, forage bees, guard bees, drone bees – which is a supreme mix of bees of all ages. This is critical for the longevity of the colony while waiting for the bees to establish themselves in a hive and for the queen to start laying eggs.
It will be 21 days before new bees start hatching after the comb is drawn out far enough for the queen to start laying eggs.
There is a freshly mated queen trapped inside a small wooden cage with sugar candy filling a hole in one end. The honeybees begin eating the candy and eventually the queen is released. This gives the colony time to get used to the smell of the new queen. Everyday some bees die until the new bees begin to hatch and then the colony explodes with honeycomb bees and honey.
It truly is one of the most fascinating things I have ever seen. Guess that's why I am in the business. Bee Well and Good Luck!