Beekeepers sometimes have a queen to fail and for whatever reason (which could be numerous reasons) the queen is not replaced effectively by the colony. They become a queenless colony and will remain in this state operating without a queen until all of the brood baby bees have hatched out.
The reason they cannot raise a queen themselves is that they do not have an egg that is the correct age. They know for sure that they will die if they don't have a queen and for some crazy reason, I suppose a survival instinct kicks in and the worker bees that are female and unfertile will designate and a worker bee to become their new queen.
The female worker bee begins to lay eggs randomly and multiple eggs in each cell, however all of her eggs will be unfertile. And, their colony would be destined to die. This is an extremely hard problem to solve. After the worker bees designate another worker to be the queen they are loyal to her. Even if you put in a new queen they most likely will kill her.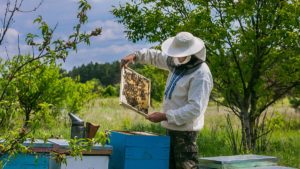 The best way I have found to solve this problem is simply take that hive of bees with the laying worker and set it on top of a healthy colony.
All of the worker bees from the healthy colony migrate to the laying worker colony, find the laying worker and kill her.
Let's face it, honeybees can find her in a split second. At that point, the colony will start to remove the unfertile eggs from the cells and polish them so the good queen can lay fresh eggs in the cells. In 8 to 10 days those once trashy frames of laying worker brood will have good healthy capped brood. At that point, you can find the queen so you leave her in the parent colony.
Bee Well Honey,
Kerry Owen
Check Out Our Other Blog Posts On Beekeeping
Beekeeping Tips: Preparing for Moving Bees
Tips and Tricks From Beekeeper Kerry Owen