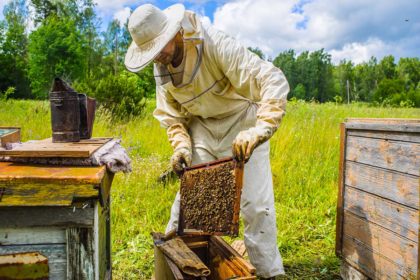 Estimated reading time: 2 minutes
Do you have friends who are beekeepers? Maybe you've thought trying beekeeping, but you're not sure where to start.
Well, beekeeping can be a lot of fun… if you have the right tools and know what you need.
Here are some questions and answers to consider.
How much time does it take to keep bees?
Beekeeping is a seasonal hobby, and therefore, the time varies with the seasons. In the winter, there is practically nothing to do except to occasionally check for physical damage or snow blocking the entrances. The busiest time is in the early summer when each hive should be checked weekly to prevent swarming, and to add additional honey supers. This need take no longer than a few minutes once you get the hang of it.
How hard is beekeeping?
Beekeeping does require some strength, and a bit of physical labor, but it's not too hard. And, you can always reach out for help from other beekeepers or beekeeping suppliers.
How much will it cost me to get started?
Bee Well Honey offers an inexpensive Beginner Kit – Click Here to Learn More. This contains all the equipment you will need to start your first hive.
How much honey can I expect from my hive?
After the first year – once the colony is built up, a hive can produce anywhere from 20 lbs – 70 lbs annually.
Will I get stung?
Well, the better question to ask is "will it hurt when I get stung"? It really isn't as bad as you might think. Stings on the hands and arms don't really hurt much, if you learn to remove the sting properly. Some seasoned beekeepers actually enjoy the first stings of the year. It means that spring is surely here.
Where can I buy bees?
We're glad you asked. Bee Well Honey has been selling bees since 1999. Our expert staff is ready to help you. Check out our Bees For Sale by Clicking Here.
Will the bees bother my neighbors?
No, not usually. Remember to locate the bees' flight path away from traveled areas. Often, if the hives are hidden from view, no one even knows they are there.