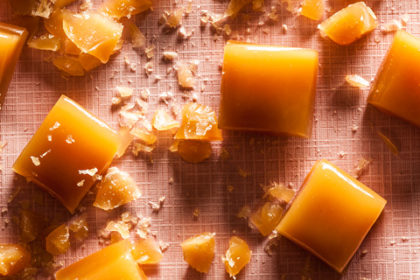 One of the tastiest and healthiest treats you can eat is sweet honey candy. All the confection recipes described in this article are made from the natural result of hard-working honeybees, so every bite will call to mind the sweet honey produced by our industrious little friends. If you enjoy making your own treats, and you appreciate the natural goodness of honey, these are recipes you just can't go wrong on. Here are a few easy-to-make treats that the whole family will love.
Honey candy
Put 2 cups of honey into a fry pan, and boil until it reaches a soft ball stage, after which you can pour it into a cooling pan. When the honey has become cool enough to handle, take it out of the cooling pan and start pulling it until a creamy consistency is achieved. Stretch this into a rope which is 1/2″ to 1″ wide, then cut into bite-size pieces.
Honey nut candy
Mix 2 cups of white sugar with 1/2 cup of milk, 1/4 cup of butter and 1/4 cup of honey in a saucepan, and cook the whole mixture without stirring until it becomes a soft ball. Beat this until it's thoroughly mixed, then add 1/2 cup of nuts and pour into a lightly buttered dish. Cut into snack-sized squares and enjoy!
Honey crunch candy
Mix together 1/4 cup of honey, 1/3 cup of butter, 3/4 cup of brown sugar, and 1/2 teaspoon of cinnamon into a 2-qt mixing bowl, preferably of glass construction. Microwave this mixture at a high-temperature with no covering, for about 4 1/2 minutes, or for two minutes after you first see the mixture start to boil. Add in 1 teaspoon of vanilla, 4 cups of whole-grain flakes cereal, and 1 cup of dry-roasted peanuts. After this is all well mixed, drop spoonful's onto waxed paper and allow plenty of time for it to cool, so it can set.
Bit-o-honey candy
Mix together 3/4 cup of sugar, 2 tablespoons butter, 2 tablespoons peanut butter, 1/2 cup of milk, 1/4 cup of brown sugar, and a pinch of salt into a saucepan at medium heat, until it comes to a boil. Allow the mixture to boil for 10 minutes, while stirring occasionally. Add in 7 ounces of marshmallow cream and 1 teaspoon of vanilla, before pouring the hot mixture into a lightly buttered pie dish. Allow the mixture to set by chilling, and then it will be ready to serve.
Where can you get the main ingredient?
If you live in South Carolina, or happen to be traveling through the area around Greenville and Spartanburg, make sure to stop in the town of Pickens at the Bee Well Honey Farm, where you can find the most delicious, raw and unfiltered honey anywhere around. Here we have the best honey to use for making your own sweet honey candy treats, as well as all kinds of beekeeping supplies, for those of you interested in taking up the hobby yourselves.